April 13
Put Your Faith In Vetements
Photography Evan Schreiber
In Paris, a city of romance and emotional fluttery, a fashion sect has risen up similar to the upheaval that tore up the city over Enlightenment a few centuries back. With silhouettes that nod to an Instagram driven culture and translating messages (literally) from the internet onto clothes, Vetements has challenged fashion's government. The difference between these two revolutions? Poppers have turned pupils on their backs.
Celine Aagard and Annabel Rosendahl on the street at Paris Fashion Week. Photo: Emily Malan/Fashionista 
Vetements AW16 collection CREDIT: ISIDORE MONTAG
Vetements AW16 
Squandering for unexplored territory without trying, Vetements puts forth unisex clothing, slapped with slogans like "You Fuck'n Asshole" nixing Jeremy Scott's slapstick approach. An effortless cool cloaks the Vetements crew. By promoting the ugly through contemporary shapes and bad haircuts, Vetements says 'fuck you' to empirical fashion in a rather composed way. Bringing back the return of the hoodie and shattering all things normcore, the label's AW16 collection in Paris was a tribute to a fashion cult. Though Hozier's wish to recieve "something meaty for the main course" wasn't granted by his god, Vetements took their turn at church and definitely threw a bone to the world. 
Using roses as invites, Vetements kept their attendees exclusive, only leaving room for those who believe in unfashcist fashion - but there really is a bachelor to thank. Demna Gvasalia, the head and hot topic right now, is preaching a new message. After he and his brethren had hit up a dim sum parlour and a trashy Parisian gay bar, Gvasalia, powered by adrenaline and his collaborator, Lotta Volkova, the Georgian designer felt that the next logical step was to worship the antichrist. Where decadent gowns grazed and coiffed hats once perched, the American church in Paris proved a testament to Vetements' unconcerned ideals.  
But when looking at the Vetements presentation, who's to say that me throwing my old GAP hoodie on doesn't make me part of the crew? Their Autumn Winter 16 lineup featured oversized plaids, exaggerated shoulders, and a long, black ensemble that nodded a head to tube worm fashion and just happened to have "Sexual Fantasies" etched down the side.
By the initial looks of things, though, it's hard to see how Vetements has revved up such a crew. After all, why not declare Gerald Ford in his all red tennis get up a Vetements congregant? 
As seen on the Vetements runway:
Or why can't this guy join in on the fun? 
Not so hick on the Vetements catwalk:
But truthfully, this is the biggest factor of Vetements' success. The fact that it's easy. It's easy to wear a hoodie. It's easy to wear an oversized plaid shirt - and damn, it's comfortable, too. Gvasalia has decided to produce clothing, not concepts - a revolutionary take on the industry, especially in Paris. Of 2016 in Paris, the designer says, "It's a generation that isn't really restrained by class, which is how Paris should be. This is a generation that tries to create its own rules to live by." 
With power mullets, loosened ties, and thigh highs, Vetements has definitely rewritten this era in fashion week and had a great impact on other shows this fashion week. The shrunken proportions (via high temperature washes) and the inherent spontaneity of the lineup influenced Gvasalia's approach to Balenciaga. 
From Balenciaga's catwalk 
The anticipation of Gvasalia's Balenciaga debut was backed by how exactly he'd translate his 'fresh' take on the age old craftsmanship of Cristobal's original work. 
Switching the setting to a location of optimum silence, Demna blessed the audience with his first polished look, setting an intense but intriguing tone for the show. Exaggerated hips and heightened shoulders commanded the catwalk. As Balenciaga CEO, Isabelle Guichot, mentioned Gvasalia is "someone capable of reshuffling the cards"- which is exactly what he did. Meticulously studying Cristobal's initial approach to fashion, Demna executed a line that showcased Balenciaga's innovation and uniqueness, but remained modern, wearable ensembles.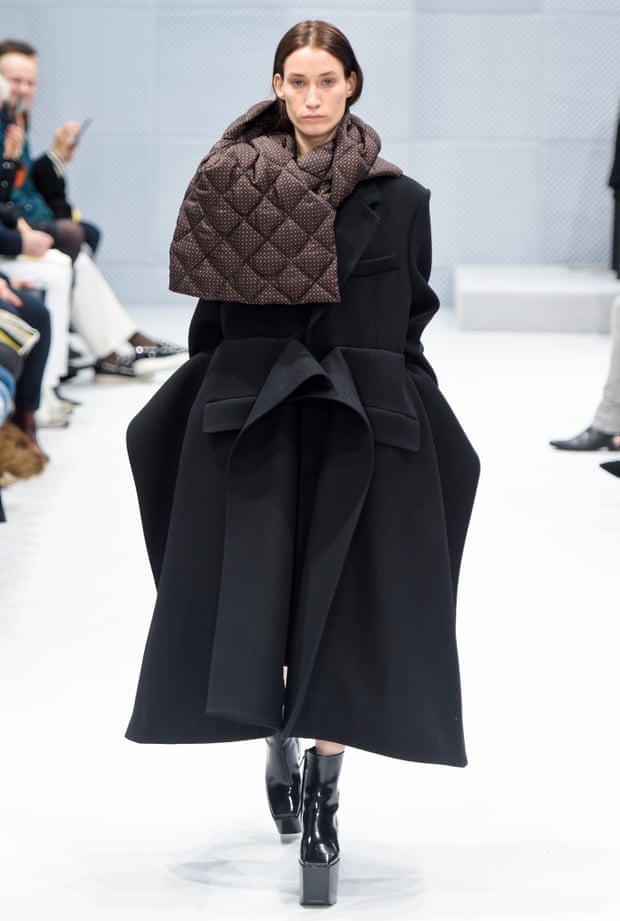 As if Gvasalia wasn't vetted enough after Vetements, his Balenciaga collection secured his position in top of the line fashion. But again, why is Gvasalia so big? We said that Vetements and this mish-mashed androgyny is easy but this isn't a trend, it's a movement. A full fledged revolution in fashion.
As proposed by Business of Fashion in January, "Has Luxury Gone too Mass?", the argument against making brands easily accessible, has caused quite a stir throughout fashion week.
Users have weighed in:
And another comment about exclusivity: 
You could say Vetements success is based off of this principle, but Vetements is a small scale luxury sect and plans to keep it's quarters tight. Selling only through 130 stockists, the label is niche and yet extremely sought after. But bigger than the physical production size is the innate exclusivity of Vetements. It might be a hoodie, but it's a hoodie with the right slogan. It might be a plaid shirt, or the red to toe, but it's how you are connected with Instagram to be able to wear it and take the piss out of it. You might ship with DHL but you need to understand the concept of wearing DHL. You need to accept that the bridges you burn might actually guide you through life.
Vetements isn't about giving something easy to the public, it's about knowing that fashion is a false idea of desire; and once you know this, you're already worshipping the lax fashion religion that is Vetements. Fashion in 2016 isn't about clothing, it's about embracing the world around you. Gvasalia's sanctimonious bond with the world is in perfect harmony, never tipping too far into an untouchable world of luxury or tripping downwards into high street territory.
So fuck mass fashion and ditch upper class factions, put your faith in the Vetements revolution.