July 29
Amy in the Raw
As a young Jewish girl from North London, Amy Winehouse was a standout from the start. Her lip piercing and black curls gave her a standout look, as well.
Her dress and her attitude were a reflection of her personality, but the Amy we didn't know was found in the new film Amy, directed by Asif Kapadia. Despite unnecessary drone shots of London and badly put together graphic transitions, the film is an honest and raw compilation of archive footage of Amy, showing what tabloids didn't. And throughout, the emergence of a music era that were really and truly artists also rises to the surface. [caption id="attachment_35976" align="alignnone" width="504"]
Picture by James Grimstead.[/caption] In the prelude, Amy is sitting with her friends on one of their 14th birthdays so alive, screaming and singing to the camera. Even in the first five minutes, you can see she's special. Her rawness and level head make her even more unique and as the film progresses, it's difficult to watch how fame affects her. [embed]https://www.youtube.com/watch?v=3PpdEjS0zI0[/embed] "She was a really strong woman, this amazing personality who had an awful reputation and whose humanity got lost along the way, it became a mission to make a film that does right by her." ― Asif Kapadia [caption id="attachment_35977" align="alignnone" width="488"]
Portrait of singer Amy Winehouse photographed in Camden Town, London, June 2003. © Alexis Maryon / Retna UK[/caption] A true jazz singer from the beginning, Amy took influences from Tony Bennet, Monk, and Ella Fitzgerald among many others. She was born with the voice of a fifty five year old jazz singer in a gritty piano bar. Yet, despite her mature voice and disposition, her character was innately rebellious from a young age. When her parents split at 14, she felt she could do whatever she wanted and on her 15th birthday came her first tattoo and a lip piercing. Singing jazz until she was 17, she and her friend, Nick Shymansky, decided to give music a go.
"She could make you feel so important, and then so unimportant, and then so important again." ― Nick Shymansky, Amy's first producer and friend In the early stages of her career, Amy focuses sheerly on becoming a jazz singer. A small audience and just to sing was all she ever wanted. The audience receives a new perspective on Amy Winehouse in just two hours and eight minutes of archive footage of Amy, her friends and family, and people in the industry.
But when Amy got signed and Raye Cosbert, previously a club promoter, started managing his timeline didn't match hers. Amy's father, Mitch Winehouse also began to leech off of Amy's success.
After battling with bulimia, multiple drug addictions, and two relationships that showed her the power of love, Amy struggled. Her struggle truly unravels as the time reels on... In the first stages of her career, she was so vibrant. But it's during this low point of Amy's life that her father and producer, Raye, play large roles on her behaviour (as all the men did in her life). She was naturally lax and didn't make a fuss of things, yet her dad insisted she take pictures with tourists and give the public what they want.
His behaviour then affected her personal health. When Amy first really spiralled down, she refused to go to rehab and declared she'd only go if her dad agreed. As Mitch drove her around in his black cab, he vetoed the idea and insisted his daughter carry on with her music. Give the people what they want…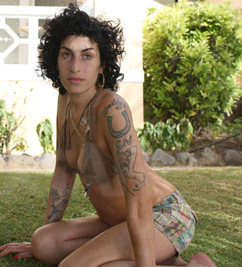 Yet, their relationship was one interesting dynamic. She had the utmost respect for him and he wanted to be a part of everything in her career. Parts of his love seem artificial, though. He was always there, but whether he was there for the fame was the true question. At one stage when she is trying to get clean, Amy and her father are on holiday in St. Lucia and he insists on having the whole film crew join them when Amy is at an all time low. He is also captured telling the camera crew to follow him around. [caption id="" align="alignnone" width="468"]
Amy and Mitch arguing in St. Lucia[/caption] "It was precisely because her songs were dragged up out of her soul that they were so powerful and passionate...She went through hell to make [them]." ― Mitch Winehouse, Amy's father And Whether he was there for the money or not, Mitch's quote is correct, however; it's clear that Amy loved the music and the process of writing, as she used it as an outlet from real life, sometimes from him…
Regardless, she was an honest jazz singer from the beginning and that's what her career should have revolved around. In the film, her articulate lyrics pan across the screen in her handwriting as she sings, showing the audience the emotion that poured into every phrase.
After signing with producer Salaam Remi, Amy's launched her first album, Frank in 2003. In interviews, Amy sits and twirls her hair, chews her gum, and rolls her eyes at the camera, clearly disinterested in the fame and glory of the industry. After she was nominated for "British Female Solo Artist" and "British Urban Act" at the BRIT Awards in 2004, her fame skyrocketed. [embed]https://www.youtube.com/watch?v=U_EhNSwI6Go[/embed] In the midst of her newfound success, Amy found Camden: a place that greatly influenced her personally and professionally. Amy discovered the club Trash, where she met her future husband, Blake Civil-Felder.
She fell head over heels for Blake and worshipped the ground he walked on; and as she discovered him, she discovered herself in addition to the Camden music scene. The pair dabbled with drugs and Amy was partying hard. She got very into guitar based music and took inspiration from bands like the Libertines and the Arctic Monkeys. She was a star before she discovered Camden, but her time spent there gave her a rockstar lifestyle. And the noughties were an interesting time in Camden, breeding British rock bands and talent that was experimental, influential, played for the sake of playing, and really rocked out (both on stage and with drugs). [caption id="" align="alignnone" width="538"]
Amy and Pete Doherty of the Libertines[/caption] Bands that came out of Camden at the time included the Libertines, the leaders of the garage rock revival in the UK, the Kills, who shunned major record labels after the release of their first album in 2002, the Arctic Monkeys, who released demos under a pseudonym just to give them away free as a better way for people to hear them, among many others. The bands of this time played to play, they were in it for the music; and Amy stood for the same message. [embed]https://www.youtube.com/watch?v=cjcnfwlGCEQ[/embed] [embed]https://www.youtube.com/watch?v=RC9-Mq2TIPo[/embed] [caption id="" align="alignnone" width="500"]
Amy and Alex Turner of the Arctic Monkeys[/caption] After her exploratory time in Camden, her and Blake eventually split after he went back to his old girlfriend. Back to Black was released, and Amy began to dislike the business of music. Drinking and going out proved her only vice as she was being pushed to produce more music. [embed]https://www.youtube.com/watch?v=TJAfLE39ZZ8[/embed] "I know there are people in the world who have worse problems than falling in love and having it blow up in your face, but I didn't want to just wake up drinking, and crying, and listening to the Shangri-Las, and go to sleep, and wake up drinking, and listening to the Shangri-Las. So I turned it into songs, and that's how I got through it." ― Amy Winehouse It becomes extremely clear through the film that she doesn't want to tour. But despite her protests and the horrid state of her mental health, her father is insistent she go on. In one segment of the movie, concert goers in Belgrade taped the singer coming on stage, looking sheepish and unwilling to sing. She completely sabotages the concert and it's uncomfortable to watch as she just breaks before the audience. [embed]https://www.youtube.com/watch?v=gtRP1fRwyis[/embed] Through a seas of paparazzi and overwhelming accounts in the media, Amy still remained unimpressed with the concept of fame. The public still picked at her though, and she didn't want the fame. Give them what they want... [caption id="" align="alignnone" width="570"]
Amy and Yasiin Bey, who grew to be very good friends[/caption] "My justification is that most people my age spend a lot of time thinking about what they're going to do for the next five or ten years. The time they spend thinking about their life, I just spend drinking" ― Amy Winehouse After her last tour, Amy's problems got out of control and on 23 June 2011, Amy Winehouse was pronounced dead. Kapadia leaves the audience with footage of Amy's funeral, what the whole film lead up to. As the movie finishes with heart-wrenching ending, it shows how fame ruined Amy Winehouse. The movie really exhibits how glorified and difficult that life is to lead and it has ruined so many talented and kind people. Amy is an honest portrayal of fame, and what that life is like. She, alongside many other musicians during this time, wanted nothing more than to just play. Unimpressed with the amenities of fame, British artists of this time were part of a music movement, in which the only goal was to play the music. It wasn't about the money. It wasn't about having groupies. There were a lot of drugs, but they just wanted to play. "We never made those demos to make money or anything. We were giving them away free anyway – that was a better way for people to hear them." ― The Arctic Monkeys It was about being genuine and raw and coming up with something new. Amy Winehouse was a pioneer and her true jazz roots and rockstar riffs will be forever remembered in music's hall of fame.
The film, Amy, is an absolute must-see that shows how a beautiful soul accidentally stumbled into the spotlight and what fame and recognition did and still does to music. The film is the most accurate depiction of fame to date, and it gives a real and ripe perspective of what it's like to be 'a star'...