July 01
FLO-JO, A LEGGING LEGEND
As we near end of our Future Athens collection, we wanted to honour a heroine, whose style and athletic abilities are on point: Florence Griffith Joyner. 
"Conventional is not for me. I like things that are uniquely Flo. I like being different."
Known as Flo-Jo, this American track star who hit the ground running in the track world. Beginning her career in Los Angeles, California, Florence didn't have much to lean on and had to drop out of the running sphere after her family required her support; but with the help of Bob Kersee, her university track team coach, she was back in action. It was in 1980 that Griffith first qualified for the 100-meter dash at the Summer Olympics, marking the official beginning of her career.
"I believe in the impossible because no one else does."
An athlete and an intellectual, Griffith graduated from University of California Los Angeles in 1982 with a BA in psychology; and in 1984, she gained a silver medal at the Olympics. Though that silver medal held some weight in her career, her extraordinarily long, decorated fingernails, full face of makeup, and strong personality proved to be worth her weight in gold. And despite her prima donna looks, Florence became known to the world as the fastest 100 meter sprinter in history in just 10.49 seconds of the 1988 U.S. Olympic Trials - still the fastest time on record. 
Her nails:
Long and curated, Florence's nails were always adorned with every colour, design, jewel, pattern, or graphic to match whatever spandex bodysuit she had on that day. Consistently being overlooked in the relay trials because of her nails, Flo-Jo remained strong and unphased. Her nails were a literal extension of her nonconforming personality, as they even limited her from assuming the correct 'flat palm' starting position before races; but that didn't stop her. 
Her Makeup and Hair:
Always captured with a fully done up face, Florence didn't just look glamorous for the cameras, she was a diva on and off the track. Ignoring any notions of 'practicality,' Florence had luxurious locks of hair and let it flounce around as proudly as she did. Coordinating lipstick to her lycra, she brought a whole new meaning to hot and sweaty.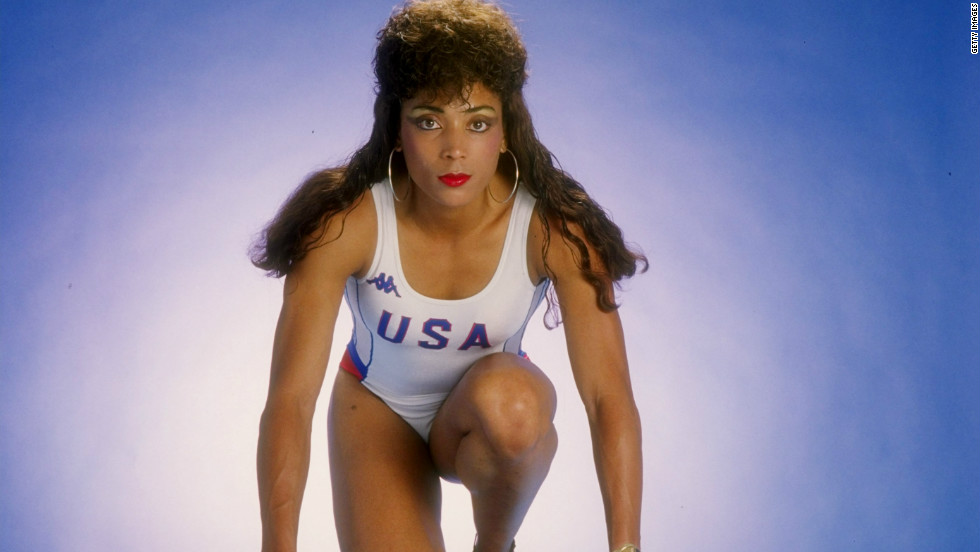 Her attire:
Giving birth to one of the most iconic running outfits to date: The One-legger, Florence's impressive bio sprouted even further, adding designer into her repertoire. The suit, made of high-shine lycra, lace, and metallic lamé gave Flo-Jo an unreplicable signature look on the track. Pairing her one-leggers with necklaces, bracelets, and rings, she proved herself an athletic stylist, innovator, and inspiration for women everywhere.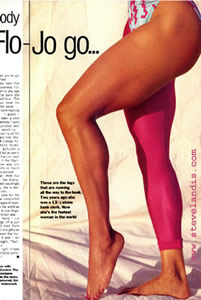 The Flo-Jo Doll
Because Flo-Jo was a pioneer of the 'Goddess style,' she inspired female athletes for generations to come to express their femininity through creativity. Serena and Venus Williams, Maggie Vessey, and Sanya Richards-Ross all serve as proof of this theory. Ever wonder how Serena can even walk, let alone play amazing tennis, with those massive hoops? Or how Maggie Vessey doesn't whip herself in the face as she sprints with a bow on her shoulder?
Serena Williams
Serena Williams in all her bejewelled glory on the court.
At Serena's NYFW show 2014.
Venus Williams


Venus in her own design label, Eleven
Maggie Vessey
Maggie Vessey released her first line of workout clothing at the beginning of this year.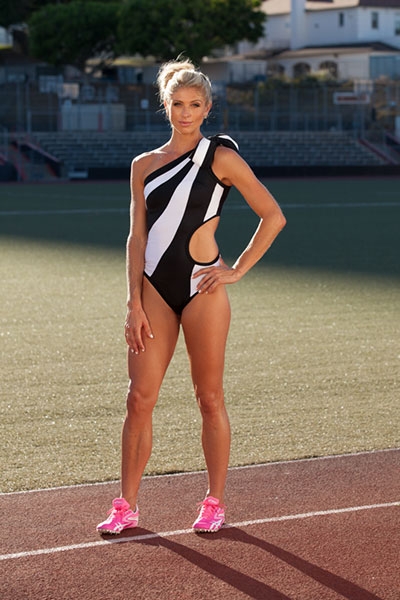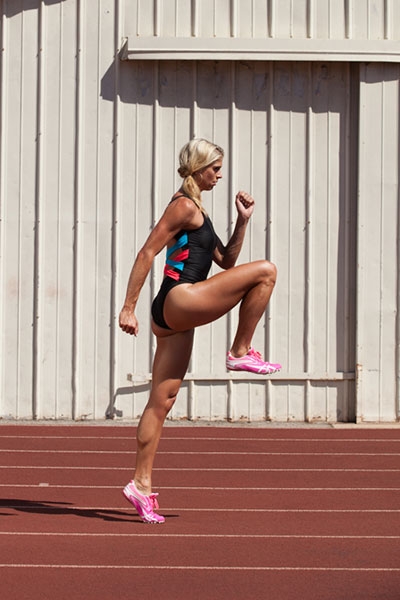 Sanya Richards-Ross
An elegant Road Runner.
[embed]https://www.youtube.com/watch?v=F3P0g0SmZgQ[/embed]
Sonya rocks Nike's new sportswear campaign.
Just a casual jog with her Chanel earrings in...

Florence Griffith-Joyner left an imprint on two worlds that seemingly never mixed, inspiring fashion trends that are still prevalent today.  
Without Walls athletic leggings
Blue Life FIT

Yves Klein
Alo Yoga
Dion Lee
The 'athletic casual' style has diffused into the modern world, making it acceptable for us to be comfortable
and
look like a goddess (hallelujah for Flo-Jo!)
Florence Griffith-Joyner was a leading lady legend.