July 04
Hump Day Bump Day: An Ode to Female Rappers
As of now, what most people classify as 'rap' is spoken messages that degrade women, incorporate overused gunshot sound effects, and lyrics that are marked dirty, simply because the rapper wants to say 'fuck' every two seconds; but where this genre came from and it's future are two topics that need to be addressed to remind us that rap wasn't made by Nicki Manaj or Drake.
Rap, also known as Kwaito music, originates from Johannesburg, South Africa. Rap was classified by combining speech, poetry, prose and singing. The beginnings of rap really took off when they were heard on samples of 60s and 70s records. James Brown actually plays an important parent in the birth of rap, influencing early b-boys (young men involved in hip hop culture) and MCs. In the late 60s and 70s in Harlem, 'toasting,' a tradition in which a partygoer would give a rhyming speech, became increasingly popular, as well. One famous toast, given by Frankie Crocker, a DJ at a radio station WBLS went as follows:
May you live as long as you want
But not want as long as you live
May you live to be 100 and I live to be 100 minus a day
So I never knew good people like you passed away  
An excerpt from a 1970s broadcast on the station
Oscar Brown Jr. was also one of the first to take traditional African rhyme routines and set them to music. His first song "Signifying Monkey" discussed issues of race and societal stature.
And we saw the influence of the first 'dirty rap song' that came from Blowfly, "Rap Dirrty" set a new tone for rap music, discussing images of race, women, and the feeling of anger.
The timeline of rap evolved from true poets and lyrics addressed important topics and racial issues. Rap became an outlet to discuss topics that were otherwise difficult to discuss, much like many other genres of music serving as expressive platforms. And this expressive genre was adopted throughout (predominantly) black culture, birthing true musical geniuses, like Biggie Smalls, Tupac, Sugarhill Gang, Run DMC, Public Enemy, N.W.A., Wu-Tang Clan, and so many others.

Biggie Smalls
Tupac
Run DMC
But skipping forward into today, the idea of rap music holds an entirely different weight, straying away from the tribal, native influences and powerful messages it once contained. According to Rolling Stone's "Greatest Hip-Hop Songs of All Time" there isn't one song dated after 2004 (which is eleven years ago in case you're having the same reaction we did of thinking this was yesterday...). That's not to say that there aren't exceptions, like Kendrick Lamar, who has been claimed "the most important voice since Tupac," delivering songs that delve into racism and touch the hearts of his fans.
And Matisyahu, a former orthodox Jew who left the rules of his strict religion behind to promote powerful messages. The borderline reggae artist (but classified by most as a rapper) raps about the Israeli conflict and topics of race and politics within his songs.
 K'naan is another artist who dabbles with socioeconomic issues.
We've seen how new races, genders, ages, and ethnicities of rap artists have emerged within the rap scene over time; but the most common messages in rap now are degrading towards women, have no depth to them, are put over beats that just thump at a constant rate for the sake of it, and are still aimed at a male audience.
However, we decided to look into female rappers and how they are changing the game. With a genre that is still so young and unexplored, women have a lot to play with in the rap industry. We found depth, poetry, and classic rap ideals within these feminine phrases. So, for our humpday hip hop playlist, enjoy these fresh tracks from lady killer lyricists. (*We had to include some oldies, too, because you just can't make a female rap playlist without Salt-N-Pepa, Afro Puffs, TLC, Eve, Queen Latifah, or Missy Elliot…)
1. To lead it off, we have to start with the queen of all rap, Queen Latifah, who's been at the rap game for over three decades now. Her track, "Unity" which came out in 1993, discussed sexualisation of women in rap songs. Rapping about the degradation of women throughout rap, she lead the way for female rappers to come and we applaud her for being the first to speak up about the topic.
2. The next rapper to recognise is Tink, who is a fresh face in 2015. Her song "Tell the Children" talks about the Ferguson decision and issues of racial unjustness.
3. Noname Gypsy, from Chicago, has made a name for herself with her laid back rhythms and her poetic lyrics, where she talks about the inequalities in prevalent political issues.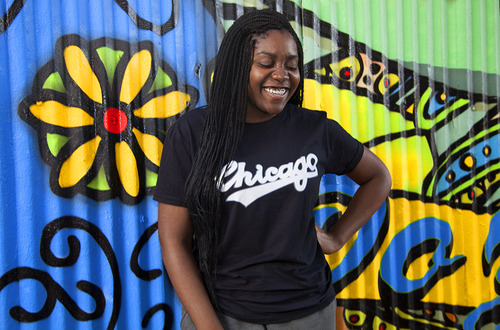 4. Jean Grae, from the big apple, is burning to spread her message with the public. She's also a vlogger.
5. Jean Deaux's music is deeply reflective and spoken over an electro-goth beat, making her a standout.
6. Gifted Gab proves that girls can rap.
7. We had to throw in a little Afro Puffs, who made her name in the 90s as a female rapper without using sex to get her there. No short skirts, tight pants, or low-cut shirts for this gal, who also proved that 'black hair' was cool. Versions of her statement double puff hairstyle are still around today.
8. Angel Haze is a unique 22 year old, who is an LGBTQ activist. Teaming up with Sia to produce "Battle Cry," she's paving a new road for the rap scene.
9. Our next song on the list is by Lizzo, a Minneapolis native, has been deemed the next Missy Elliot by VH1. Her quirky raps involve messages of joy and female empowerment. She wants to make a name for herself as a testament to strong women.
 10. Jungle Pussy raps about female autonomy and empowerment. She's not afraid of telling it as it and she's ready for people to listen.
 11. So, TLC had to make an appearance on here, too, as their messages of safe sex were the first of their kind in the 90s. 
12. Salt-N-Pepa "Push It" because they led the way for female rap.
13. And second to last, here's a classic: Eve, a face in fashion and in music.
14. And we'll leave you with Missy Elliot's "Work It" as our last song. Missy is an incredible rapper, producer, and advocate for just being yourself.  
Enjoy our ode to lyrically talented lassies, because it's hip hop hump day!