November 17
Woman At Work
Walking around Soho, whether it's New York or London, usually entails a few whistles, cat calls and that godawful feeling you're left with after a greasy man attempts to fully undress you with his eyes. We have all been there. Since the video of a woman walking around New York took the Internet by a storm a few years ago, we all pretty much confirmed that it's in construction workers DNA to catcall a woman.
It's getting old.
 Because apparently women in construction have to look like this?
Women all over the world are tired of being disrespected by a 'male profession.' Up until three years ago, the percentage of women in the construction field is only 11% and 1% of the members on site.
A poll was posted on LinkedIn by Foyne Jones, a largely influential construction company in London, inquiring whether women would like to join this field women would like to join the construction field: "'I'd like to know if anyone else thinks the industry could do more to attract females or make it easier for women to break into the sector?', and the results really speak for themselves with an astounding 83% stating Yes."
Or maybe the key is to look like a complete ditz. 
Women are interested in the field and one member of the group commented "It's been a long hard slog and I spent many years trying to convince people that I am "intelligent" enough to read a drawing and to answer technical queries" after she's been in the industry for quite some time.
...I mean....
It's about time women are viewed as 'capable enough' without the lack of clothing or an unrealistic physique.    
Foyne Jones believes they can overturn these idiotic stereotypes of women being 'less capable' or 'intelligent enough' to read the blueprints or lead a construction project. Visit their LinkedIn page here. And living proof of this theory is through the Construction Industry Training Board booklet of women in construction.
 Some of the case studies include stories like Alex Shields', who's been in the industry for three years. After graduating in architecture, she has worked on locations such as Regents Place, Commercial Street in Aldgate, the Crossrail Project in Canary Wharf, and more. She spends her time split between on site work and upholding office management responsibilities.
Another example is Wendy Beatty, a more than capable worker, who has been setting an example in the industry for fourteen years. She worked on quarry, Health and Safety Environmental Management, and Civil Engineering projects. She loves the industry, providing advice to members both on site and in an office.      
But the stereotypical view that 'construction is for men' has developed from a young age. These women are setting examples by reaction, however, there are ways to be proactive from the beginning. One company that has transformed the way children perceive 'hobbies' or 'professions' as traditionally male or female is GoldieBlox: A children's toy company that makes 'construction toys for girls.'  
Not to try and sway the industry one way or another, CEO Debbie Sterling indicates that GoldieBlox were created to "get girls building." Debbie presented her idea via TedTalk a little while ago and received a world of support as her genius idea abolishes traditional stereotypes that children inherit from a young age.
The Boston Globe says, "Goldieblox, an alternative to toys more concerned with looks than brains."  
 The company really caught the attention of viewers when they aired this ad in 2013.
And we were all in support of this. Things have begun to change and the notions that children have previously adopted about gender roles are beginning to neutralise. Another article from TIME magazine this week noted that Target, a massive American franchise of affordable department stores, has decided to "stop separating childrens toys by gender."
When you walk into a Target, the contents of the stores are sectionalised accordingly and subdivided into many subcategories - two of those in the Toy Department being "Boys Toys" and "Girls Toys" In a recent press release the company stated "Over the past year, guests have raised important questions about a handful of signs in our stores that offer product suggestions based on gender. Right now, our teams are working across the store to identify areas where we can phase out gender-based signage to help strike a better balance."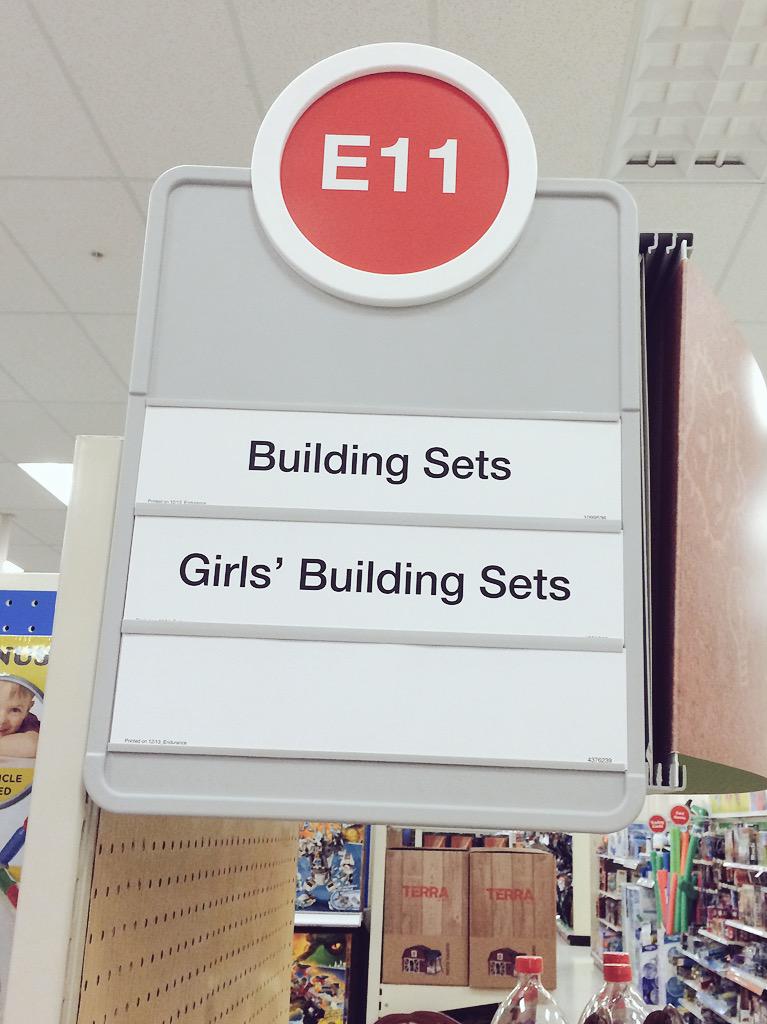 Target also stated they will no longer use colours, such as pink and blue, on the shelving units to categorise the gender of certain items. They also plan to refine the bedding section by ridding the bedding sets of 'gender associated' colours.
The world is finally coming around and changing these preconceived notions of 'gender roles.' It's about time. It might still be a few years (or it won't ever stop) before women stop getting those terrible universal catcalls from construction workers, but we can only hope that with the encouragement of women to join the construction force, toys like GoldieBlox, and ridding our stores of gender sectionalisation will help this cause.