April 01
Miista X Harvey Nichols
The department store's humble beginnings started with Benjamin Harvey opening a linen shop in Knightsbridge in 1831. After he passed in 1850, Harvey's wife, Anne, found a new man by the name, James Nichols. The two began to run the business together and thus formed, Harvey Nichols.
Since then, Harvey Nichols has done incredibly well for itself and officially became a 'department' store in 1975 - when it began to sell an array of products. Celebrities and royals, like Princess Diana, have frequented the store for years, as it proved to be a comfortably luxurious environment.
The store has been extremely successful and is continuously expanding. Yet the store may be successful on its own, but through its advertising is where it gets its personality; and in honour of another season of Miista sold at Harvey Nichols, we've decided to take some time to acknowledge some of the best Harvey Nicks ads over the years.
From the beginning, Harvey Nichols has never been afraid of creating a bold image for themselves. With their printed ads from their early days, they advertised fur, fashion, and a sense of cool that distinguished them from other department stores.
 1920s ad from Harvey Nichols 
Pringle for Harvey Nichols in the '60s  
1980s, Making A Splash It was in the nineties that the store really began to make waves with its clever advertising. They had pinpointed their clientele and understood how to push the boundaries. 
1996, Harvey Nichols demonstrates where this woman's head's at.
Finally, by welcoming the digital wave of advertising, Harvey Nichols campaigns flourished.
Each campaign they have run is roaringly clever, yet cuts quickly to the chase - the golden rule of advertising; and behind each of these campaigns are advertising gurus; one of them being Lovisa Almgren of the Bears, Deer and Wolves winter sale campaign from 2013 (see below).
"We wanted to depict how fashion lovers' behaviour becomes more aggressive and territorial when the sale is on – they turn into animals when there are bargains to fight over," Lovisa Almgren, art director on the campaign, says. "Because it is the winter sale, we chose animals associated with the season – wolves, deer and polar bears."
Lovisa works for the communications agency, Adam and Eve DBB, who've done the advertising for Harvey Nichols. Adam and Eve have also worked on projects for Lloyds, Lipton, John Lewis (they were the ones behind the adorable Monty the Penguin ad),  Marmite, Google, Sony, and many more.
Adam and Eve are just one of the thousands of brilliant advertising/communication agencies around the world that specialise in digital marketing. The world of advertising has been completely revamped with digital platforms. Marketing is now catered towards mobile phone usage and social media channels, and has been reformatted to fit television, rather than the other way round. Thanks to Netflix, Facebook, and Snapchat (amongst thousands of others), which allowed consumers to have access to media virtually anywhere and on any device, the concept of advertising is well on it's way to becoming strictly digitalised.
According to Jeff Green, chief executive officer of The Trade Desk, an advertising technology company that automates ad buying, "The way consumers are consuming content is becoming more digital. Ultimately, every advertising format will become digital, whether it's print, TV, radio," he says. "The most efficient way to operate is [by being] somewhat electronic and market-driven. And the primary way marketers look at it is: 'I want to have the most effective marketing that I've ever had.' " [Exerpt from the Financial Times]
With that said, Harvey Nichols seems to be right on track with Green's claims, thanks to Adam and Eve. With innovative video campaigns and digitally advanced adverts, Harvey Nichols is definitely far above its competition with their marketing campaigns.
From the naughties to now, racy subjects and clear cut photography have made Harvey Nichols the 'edgy' department store. With their recent "Freebies Rewards" ad release, where they used real CCTV footage of customers shoplifting in the store, to their "I spent it on Myself" Christmas campaign in 2013, which encouraged self indulgence over the holidays, Harvey Nichols knows how to create quirky, classy, and clutch adverts.
  Juxtaposing objects that vary in size, Harvey Nicks constantly play with how they convey messages.
Cunning and extraordinarily sharp, the ads are perfectly snarky without being offensive.
The frequent use of animals in their ads helps them creatively generate imagery that makes the ad even more relatable...
You know you've been there...
Or there.... 
Hungry like the wolves for that post Christmas sale? Taking stereotypes into account, they also use creative photoshopping tools to play up their various product categories.  
Of course they like to play with their food too...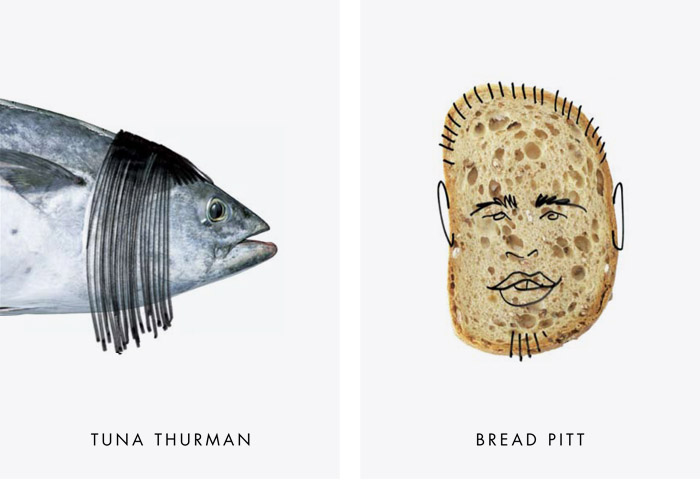 After viewing how they present themselves, we'd like to show you how they present us. We're excited to collaborate with such a brilliant store, and we encourage you to check out Miista on Harvey Nichols' website for yourself here.