August 12
Calligraffiti
The Arabic Alphabet, consisting of twenty-eight letters, where twenty-five are consonants and the other three vowels, is a calligraphic art form. Arabic writing doesn't only convey a written dialect, it is also considered a high art form and holds a unique beauty that most other scripts don't.
Yet most people are frightened by the stereotypes and stigmas that have formed around Islamic cultures, misconstruing any Arabic writing for a threatening message; and this is where eL Seed plants a different kind of seed.
A French-Tunisian born artist with a message, eL Seed strives to overthrow the public's skewed portrait of Islam through an atypical medium: graffiti.
Typically seen as defacing property and associated with quite heavy jail time, graffiti is not usually accepted as an art form. Aerosol graffiti first came majorly into play in the late 1960s. It was mainly a form of rebellion during the rock and roll movement and was a way for fans to mark their territory or write a short slogan. Using trains and public walls, graffiti goers had tied aerosol paint, vandalism, and rebellion close together.
Photo by Erik Calonius 1973 NYC Subway car
Photo John H. White 1973 Chicago Wall 
Given this history, graffiti has struggled to be seen as art. Throughout the past forty years, however, aerosol paint graffiti has undergone many different forms, where modern graffiti artists have lived in the shadows and nocturnal lives. Graffiti still has the same vandalistic/secretive notion, but graffiti art is now an understood art form. Artists like Shepard Fairey, Banksy, John Fekner, and eL Seed (amongst many others) have proven that graffiti can send quite a powerful message.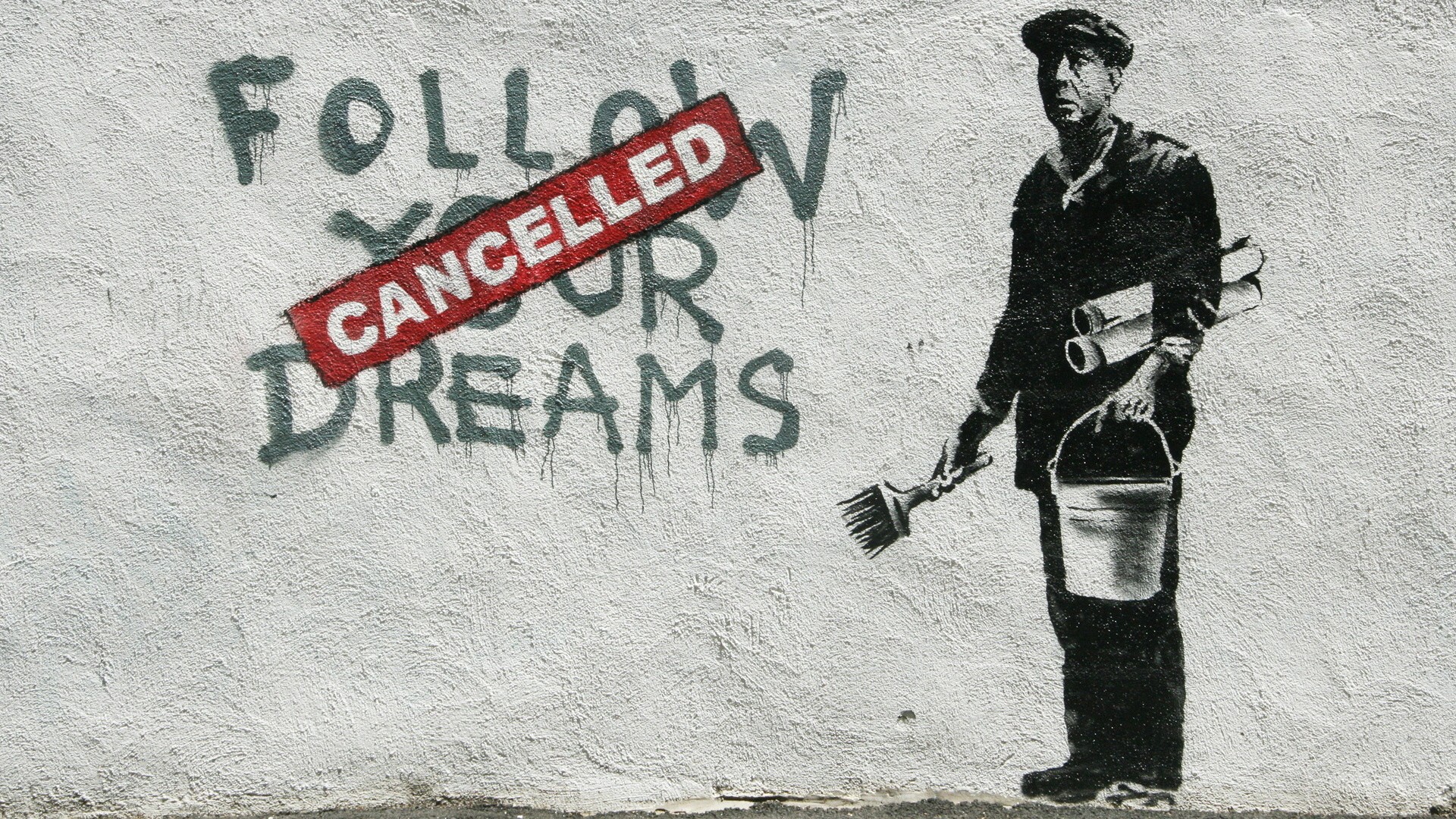 Banksy 
Shepard Fairey 
John Fekner
Using Arabic calligraphy,eL Seed has built an artistic empire with his array of script. Beginning his career by completing a massive piece on a Minaret in Tunisia - an irony to begin with.
This religious temple graciously accepted Seed's proposition to inscribe their holy exterior with the sacred script, but graffiti on a temple doesn't usually please the gods. After gaining popularity for this first piece, he began to paint in various locations, sending messages that both lure a viewer in and entrance them by the power of linguistic art. His pieces, colourful and bold, play off of stereotypes with both graffiti and cultural erroneousness. He blended two art forms together and coined it: Calligraffiti.
A building in Paris
eL Seed gave a TEDtalk about his work, in which he spoke of his numerous projects around the world. Creating each project in correlation with its surrounding environment, eL generates a message that speaks specifically to the neighbouring audience.
The above piece was done on the only wall left (a school wall) in a slum in Philippi, South Africa. The piece translates to "It seems impossible until it's done," a quote from Nelson Mandela.
When he began to spread his messages, he provided English translations beneath them; but as his art gained attention and his messages grew even more relevant with the world's politics, he began to negate the translations.
"You don't need to know the meaning to feel the peace."
Seed believes that the art should speak for itself and the onlooker should be entranced sheerly through the beauty in the brushstrokes. eL Seed has created pieces that certainly send messages in provocative environments. Having worked on a piece in Israel, Seed said his Arabic message of peace did not go down so peacefully... yet after the commissioner asked him to take it down, he then called him back and agreed to have it. Seed wrote 'open your heart' in Arabic on this Israeli wall, and his art was warmly welcomed.
"Bringing people, culture, generation together through arabic calligraphy is what I do."
Seed's amazing messages through calligraffiti have reshaped how we view both graffiti as art and Arabic as beautiful and nonthreatening. He is an innovator, combining two elements that would otherwise never go hand in hand and using them to promote worldwide unity.
Check out eL Seed's TED Talk, website, and a sampling of his art below.
Art in Sharjah. Photo: John Falchetto 
His calligraffiti art was even made into a three dimensional installation.
Lost Wall in Tunisia  
Calligraffiti in Gabes, Seed's hometown 
"It is one thing to show a man that he is in error, and another to put him in possession of truth." - John Locke 
This piece is eL Seed's piece on the wall of the Village Underground in Shoreditch and was completed in late July 2015 as part of the Shubbak Festival.